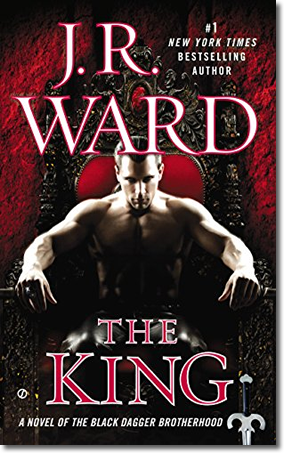 BUY THE BOOK
AMAZON
AUDIBLE
BAM!
BARNES & NOBLE
GOOGLE PLAY
IBOOKS
INDIEBOUND
KOBO
POWELL'S
TARGET
WALMART
THE KING
---
Berkley | Mass Market Paperback, Ebook, Audiobook Download | 2014
Fallen Angels | Book Five
---
#1 New York Times bestselling author J. R. Ward explores what really happens when good and evil toy with humanity in her new novel of the Fallen Angels….
When Cait Douglass resolves to get over her broken heart and lose her inhibitions, she's unprepared for the two sensual men who cross her path. Torn between them, she doesn't know which to choose—or what kind of dire consequences could follow.
Jim Heron, fallen angel and reluctant savior, is ahead in the war, but he puts everything at risk when he seeks to make a deal with the devil—literally. As yet another soul is unwittingly caught in the battle between him and the demon Devina, his fixation on an innocent trapped in Hell threatens to sidetrack him from his sacred duty….
Can good still prevail if true love makes a savior weak? And will a woman's future be the key, or the curse, for all of humanity? Only time, and hearts, will tell.
PRAISE FOR THE NOVELS OF THE FALLEN ANGELS
"Fans of the Black Dagger Brotherhood clear a shelf: Your next series addiction has just begun."—Publishers Weekly
"I absolutely loved this book!"—Darhk Portal
"It makes me happy to see that Ward still has it in her to shock the you know what out of me."—Fiction Vixen
"It grabbed me from the very beginning."—Smexy Books
"Wow. Just, wow. [It] left me almost speechless."—All About Romance
"You don't want to miss out on this one."—Smokin' Hot Books
"Proves that J. R. Ward's talents don't stop at vampires."—LoveVampires
PRAISE FOR THE NOVELS OF THE BLACK DAGGER BROTHERHOOD
"J.R. Ward's unique band of brothers is to die for. I love this series!"—New York Times bestselling author bestseller Suzanne Brockmann
"Utterly absorbing and deliciously erotic….The Brotherhood is the hottest collection of studs in romance. I can't wait for the next one!" —New York Times bestselling author Angela Knight
"J. R. Ward has proved that a strong plot, lots of evil villains, and super-sexy special ops vampires are exactly what readers are looking for…."—USA Today
"J. R. Ward has created a world that I love…along with characters I can't get enough of."—Night Owl Reviews