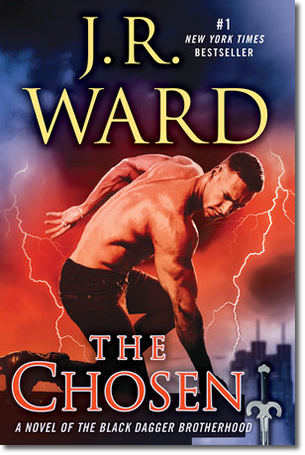 BUY THE BOOK
AMAZON
AUDIBLE
BAM!
BARNES & NOBLE
GOOGLE PLAY
IBOOKS
INDIEBOUND
KOBO
POWELL'S
TARGET
WALMART
THE CHOSEN
---
The Black Dagger Brotherhood Series, Book 15
Ballantine Books, April 4, 2017
---
NEW YORK TIMES BESTSELLER • A scorching forbidden love threatens to tear a rift through the Black Dagger Brotherhood in J. R. Ward's newest novel in the #1 New York Times bestselling series.
Xcor, leader of the Band of Bastards, convicted of treason against the Blind King, is facing a brutal interrogation and torturous death at the hands of the Black Dagger Brotherhood. Yet after a life marked by cruelty and evil deeds, he accepts his soldier's fate, his sole regret the loss of a sacred female who was never his: the Chosen Layla.
Layla alone knows the truth that will save Xcor's life. But revealing his sacrifice and his hidden heritage will expose them both and destroy everything Layla holds dear—even her role of mother to her precious young. Torn between love and loyalty, she must summon the courage to stand up against the only family she has for the only man she will ever love. Yet even if Xcor is somehow granted a reprieve, he and Layla would have to confront a graver challenge: bridging the chasm that divides their worlds without paving the way for a future of even greater war, desolation, and death.
As a dangerous old enemy returns to Caldwell, and the identity of a new deity is revealed, nothing is certain or safe in the world of the Black Dagger Brotherhood, not even true love . . . or destinies that have long seemed set in stone.