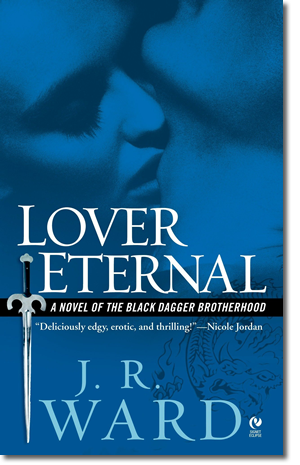 ORDER THE BOOK
AMAZON
AUDIBLE
BARNES & NOBLE
BOOKS-A-MILLION
GOOGLE PLAY
IBOOKS
INDIEBOUND
KOBO
POWELL'S
TARGET
WALMART
LOVER ETERNAL
---
Berkley | Mass Market Paperback, Ebook | 2006
Black Dagger Brotherhood | Book Two
---
A warrior with inner demons falls for a woman who could save his soul in this seductive novel from the #1 New York Times bestselling Black Dagger Brotherhood series.
Within the Black Dagger Brotherhood, Rhage is the warrior vampire with the strongest appetites. He's the deadliest fighter, the most voracious lover, the quickest to act on his impulses. He's also been cursed with two hundred years of hell. Possessed by a beast, he lives in fear of the times when his inner dragon comes out and he's a danger to everyone around him.
Mary Luce has unwittingly found herself in the vampire world, and under Rhage's protection. With her own life-threatening curse to bear, she's not looking for love. Besides, she's stopped believing in saving grace and miracles long ago. But when Rhage's intense sexual attraction turns into emotional bonding, he knows he must have her for his mate. As their enemies close in, Mary finds herself praying for something she fears she'll never have: life eternal with the one she loves.
Praise for Lover Eternal
"Ward wields a commanding voice perfect for the genre, and readers new to the world of the Black Dagger Brotherhood should hold on tight for an intriguing, adrenaline-pumping ride featuring a race of warrior vampires who fill enemies with terror and women with desire. Like any good thrill ride, the pace changes with a tender story of survival and hope and leaves readers begging for more."—Booklist
"The concepts and consequences of friendship, loyalty and love are critical to this extremely intense and emotionally powerful tale. Ward's ongoing paranormal world is, among other things, colorful, dangerous and richly conceived. With both intricate plots and believable characters, she has penned a surefire hit."—RT Book Reviews
More Praise for the Novels of the Black Dagger Brotherhood
"Delicious, erotic, and thrilling."—New York Times bestselling author Nicole Jordan
"Dark fantasy lovers, you just got served."—New York Times bestselling author Lynn Viehl
"To die for. I love this series!"—New York Times bestselling author Suzanne Brockmann
"J. R. Ward's urban fantasy romance series is so popular I don't think there's a reader today who hasn't at least heard of the Black Dagger Brotherhood."—USA Today