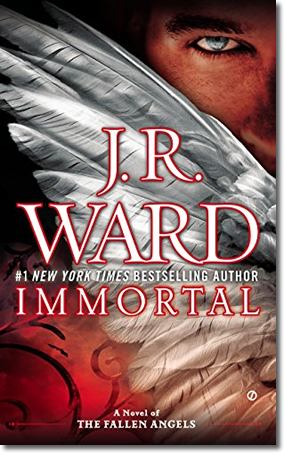 BUY THE BOOK
AMAZON
AUDIBLE
BAM!
BARNES & NOBLE
GOOGLE PLAY
IBOOKS
INDIEBOUND
KOBO
POWELL'S
TARGET
WALMART
IMMORTAL
---
Berkley | Mass Market Paperback, Ebook, Audiobook Download | 2015
Fallen Angels | Book Six
---
From the #1 New York Times bestselling author who has kept readers on the edge of their seats with her phenomenal Fallen Angels novels, comes one of the most heart-stirring and eagerly anticipated events in that acclaimed series.
The Creator invented the game, and the stakes are nothing less than the fate of the quick and the dead: seven souls, seven crossroads. Reluctant savior Jim Heron has compromised himself, his body and his soul, and yet he's on the verge of losing everything…
…Including Sissy, the innocent he freed from Hell. Jim's determined to protect her—but this makes her a weakness the demon Devina can exploit. With Jim torn between the game and the woman he's sworn to defend, evil's more than ready to play dirty.
Humanity's savior is prepared to do anything to win—even embark on a suicide mission into the shadows of Purgatory. True love is Jim's only hope for survival—and victory. But can a man with no heart and no soul be saved by something he doesn't believe in?
Praise for the novels of the Fallen Angels:
"Fans of the Black Dagger Brotherhood clear a shelf: Your next series addiction has just begun."—Publishers Weekly
"Pulse-pounding twists, a titillating romance, and a darker side of angels that you've never seen before.…a ride that you won't forget."—Fresh Fiction
"I absolutely loved this book!"—Darhk Portal
"It makes me happy to see that Ward still has it in her to shock the you-know-what out of me."—Fiction Vixen
"It grabbed me from the very beginning."—Smexy Books
"Wow. Just, wow…left me almost speechless."—All About Romance
"You don't want to miss out on this one."—Smokin' Hot Books
"Proves that J. R. Ward's talents don't stop at vampires."—LoveVampires