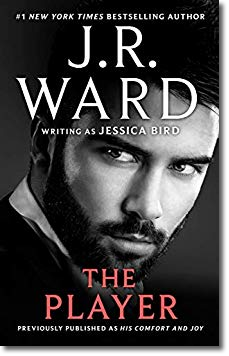 ORDER THE BOOK
COMFORT AND JOY
(THE PLAYER / ME WITHOUT YOU)
---
HQN Books | Original edition December 16, 2019
---
A powerful man finds the one woman who completes him in this reader favorite, the second book in the Moorehouse Legacy series, from New York Times bestselling author J.R. Ward writing as Jessica Bird, first published as His Comfort and Joy!
Ruthless might as well be Gray Bennett's middle name. When the renowned Washington, D.C., insider talks, powerful people listen. But Gray hasn't come home to Saranac Lake to play politics. Or play at all. A tragedy has brought Gray Bennett back to face everything he thought he'd left behind.
Including the most unlikely of women.
The mousy redhead who used to run around the Moorehouse B and B—the one he never noticed—is now all fiery hair and lush curves. But sweet Joy Moorehouse is too innocent for a cynic like him. So Gray won't let himself lay a hand on her…until the night he can no longer resist the woman she has become. That's when he discovers a secret that leaves him gasping for breath—and wanting more.
Originally published in 2006